12 Common Mold Types in Homes
4/26/2018 (Permalink)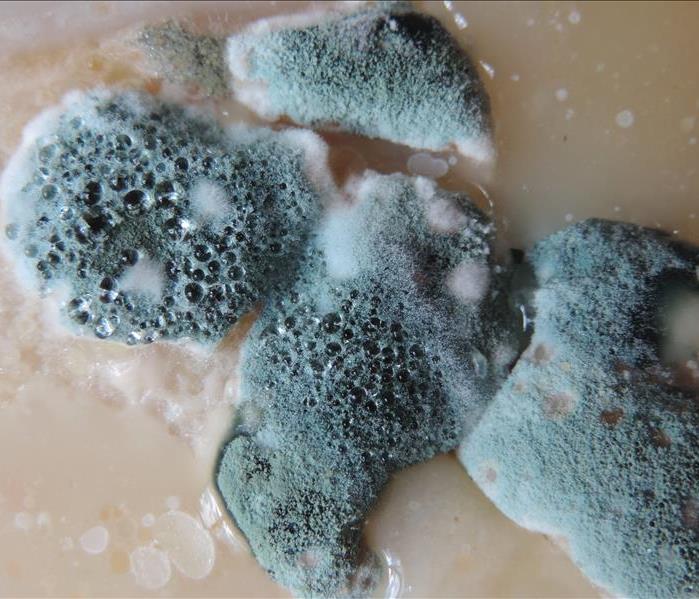 Mold is a living substance that grows in very specific conditions, primarily warm, dark, and damp areas. Mold often grows in areas that have experienced some form of water damage.
Here is a list of 12 common molds that are found accompanying water damage:
Acremonium- this mold typically grows in areas such as condensation from humidifiers, cooling coils, drain pans, and window sealants. It is often white, pink, or grey.
Alternaria- this greenish brown mold is found wherever dampness occurs. These areas can include showers, bathtubs, and below leaking sinks. It typically accompanies areas that suffer from water damage.
Aspergillus- this is a very common mold that consists of over 185 species, resulting in all sorts of color variations. It is found in damp areas, similar to alternaria.
Aureobasidium- this mold is normally pink, brown, or black, and often grows behind wallpaper or on painted or wooden surfaces.
Chaetomium- this greyish brown mold is found by the sources of water damage, and has a distinguishable musty odor. Because this mold grows in consistently moist conditions, it is important to either repair the cause of moisture or keep an eye out for any possible places that you might find it.
Cladosporium- this mold is unique because it can grow in both hot and cold climates. It likes to thrive in fibrous materials like fabrics, upholstery, and carpet.
Fusarium- this mold is also able to grow in colder temperatures. It grows in carpeting, wallpaper, and other soft materials. This mold spreads quickly so it is good to examine the rest of the home thoroughly for signs of it elsewhere.
Mucor- this mold grows in thick greyish white patches, typically near areas that contain moisture due to condensation.
Penicillin- another type of mold that is found in water damaged areas, it is green or blue in color. While it is responsible for creating antibiotics, prolonged exposure could cause health issues.
Stachybotrys- also known as black mold, it hides in damp or wet areas with high humidity levels. It grows on cellulose material such as wood, cardboard, paper, etc.
Trichoderma- this multi-colored mold has five different subspecies, commonly growing on wet surfaces like wallpaper, carpet, or other damp fabrics.
Ulocladium- another mold that thrives in wet areas, this black colored mold can be found in kitchens, bathrooms, basements, and windows with high condensation levels.
Because some molds can pose health hazards, it is important to utilize the services of a specialist upon discovering any mold growing within the home. This results in a safe remediation process for both yourself and everyone else in the home.
For more detailed information regarding these 12 mold types, please visit this link here.